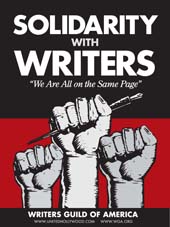 Today the WGC is organizing a Day of Solidarity for the members of the WGA. There have been protests around the world and here in Canada in Montreal and Toronto.
Notably, despite efforts from various local WGC members there's an Inexplicable Nothing going on here in Vancouver. What the hell?! To do our bit the writers here on set at RA have resolved to stay in crafty all afternoon if that's what it takes to get the message out.
I've been following the strike on the
Dead Things
website. Thanks for the updates Denis.
Seriously do something if you can. It's Wednesday so maybe you don't watch several of your favourite American programs. How 'bout watching a Canadian show. Or if you didn't want to do something so drastic. You could just talk about stuff, things like: "Dude, doesn't it seem fair to be paid for work that others are profiting from?" and "Jeepers, what will happen to BSG if this thing isn't settled soon?!"